~~~To live well, in this WErld ~~~

i choose to fully pARTicipate in the re'b'eARTh of our culture, through the WErk of this chamber.

As a modern human, i see this to be a personal Response Ability that we all share, whether we know it....or not.~~~

Mz. imani
SouFire Sanctuary exists as a Church:
To organize, operate and maintain SoulFire Sanctuary as a church of music, art and movement which uplifts earth based traditions and gathers people to be in communion with the Divine thru nature.
To Assist our congregation in developing a maturity of personal and collective awareness of the sacred, thru the practice of gratitude.
To prepare and equip them for a SoulFire Ministry, which honors and celebrates life, through the primary expressions of prayer being sound, meditation, movement, rhythm and art.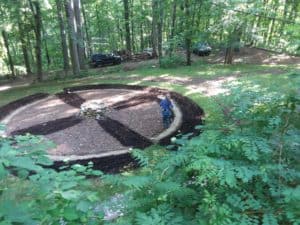 You are welcome to visit with us, to share music, chanting, ceremony and community reb'eARTh. please know, we all WErk and play together here, … each to their ability as it is  bigger than any of us and…. TEAM WErk Makes The Dream WErk.
SoulFire Sanctuary is the homebase for Mz. imani. The land is a ceremonial dance grounds that was b'eARThed and enacted through the vision of Beautiful Painted Arrow (Joseph Rael) and the good WErks of Zoe Bryant, her father Baxton Bryant, the Council and Community surrounding the co-creation of the 18th Sound / Peace Chamber.
The Chamber was held by the Educational 501c3 called the Earth Center. Prior to the Earth Center, the land was owned by the Southern Churchman Association, and Rev. Bryant was chosen, by the Association,  to purchase the 400 acres of this Cove, in Swan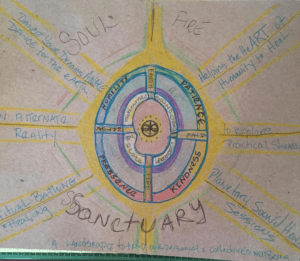 nanoa.
In August of 2014, i purchased the Chamber and surrounding 29.5 acres, from Zoe Bryant, daughter of Baxton and Beatrice Bryant. While the Chamber continues to be in renovation, it is time to open the doors a wee bit, and welcome you to witness the dance of the past 5 years:
https://www.youtube.com/watch?time_continue=8&v=2hUz8ZYL_Ig
As Caretaker of this land, i choose to hold specific protocols, around parking and anticipated ways of relating. We encourage carpooling or sharing an Uber. We have parking close by & provide shuttles to the chamber. Thank you for WErking together and going with the flow, my flow, of this newly re-emerging gem. thank you for collaborating to minimize our impact on my neighbors and to orient you to the land.  if you have my cell, you can text me.
SoulFireSanctuary@gmail.com
Consider giving yourself time to play, dance, walk, speak and celebrate with us. Whether for a few hours, a day, or the week of Summer Solstice, 2018.
Our purpose is to awaken our personal and collective potential that resides on this hill and within the prayers for our children, our hOMe and our humanity, thru music, art and dance.
New WErld Culture and Ancient Wisdom come together in prayer, music and celebration here. Within the Chamber, our body, mind spirit are saturated in sound and beauty. On the land, and in the Chamber, we offer witness to this complex, yet simple, dance of life. We are empowering our dreams into reality. We are offering our gifts, to help bring peace to ourselves and to the planet, by being kind and caring, careful and considerate, as we cultivate and define our ceremonial roles and response-abilities to present ourselves as emissaries for humanity.
….may any and all beneficial energy raised by these efforts, be offered with love and trust, to to the wellness of the planet, our people, our children, and the 7 generations….
Peace Matters:
Mz. imani
6.11.2018